The Nordholms company group
The journey has just begun!
Going from a company that only performed on-site installations to become a modern manufacturing company is an exciting journey in itself. The journey, which began more than 40 years ago, means that we have evolved from renting out machines and labor to an innovative partner where knowledge is an important part of the brand. Along the way, two companies have been acquired in connection with generational shifts, of which Nordholms and OMEK have been working side by side since 2011 to solve the customer's needs, while QB Food Tech's operations were integrated into Nordholms.
During the past year, the Nordholm Group, together with our customers, has delivered products that have contributed to the development of vaccines against Covid-19, which we are very proud of!
Development
Through the years we have delivered a large number of customized modules, pipe installations and pipe details to customers in the pharmaceutical, biotechnology, food and nuclear power industries, and the order intake is constantly increasing. To meet our customers' positive development, we have transformed our previous warehouse building into a procuction facility, at the same time, the layout of the existing production premises has been changed. This means that we now have a separate workshop for manufacturing of frames, one for mechanical processing and one for pipe construction and assemblies.
In order to further strengthen our role as a comprehensive supplier, in 2019 we supplemented our business with electrical and automation installations. In 2021 we were three electricians, from September 2022 there are six of us and we carry out installations in cabinets as well as we do the external installation - a complete electrical assembly including testing.
Strategical work
We have a strong focus on strategical work, with the main goal of becoming a moderna and attractive copmany, both for our customers but also for our employees.

Nordholms 2.0
Now it's time for the next step, we are crowded and in order to get an even better flow, to meet customer demand, it's time for another extension, the building permit application has been submitted so now we hope for positive news.
Technical development
In line with our strategy of being a modern and attarctive company, we are up to date in the technical development. Traning and competence of our employees is important and together we posses incredible knowledge. 

By being members of the welding comission we keep up to date in the welding area and have free access to advice. We are also active in IUC Väst, a corporate network for manufacturing industries where we, together with Innovatum and PTC in Trollhättan, can get help in development issues. 
Diversity
Working with diversity should be natural for all companies today. As a company you will be more competitive and the work climate develops in a positive way. Diversity is about treating everyone with respect and giving people equal opportunities and rights where everyone is judged according to competence. We see a positive trend where the latest recuitments have made us even more diverse both in terms of gender and ethnicity.
Sustainability
Sustainability is a broad concept thet extends from retaining employees to reduce the climate impact. To reduce our climate footprint, we have, for example additionally insulated premises, geothermal heating and a strong focus on first time right.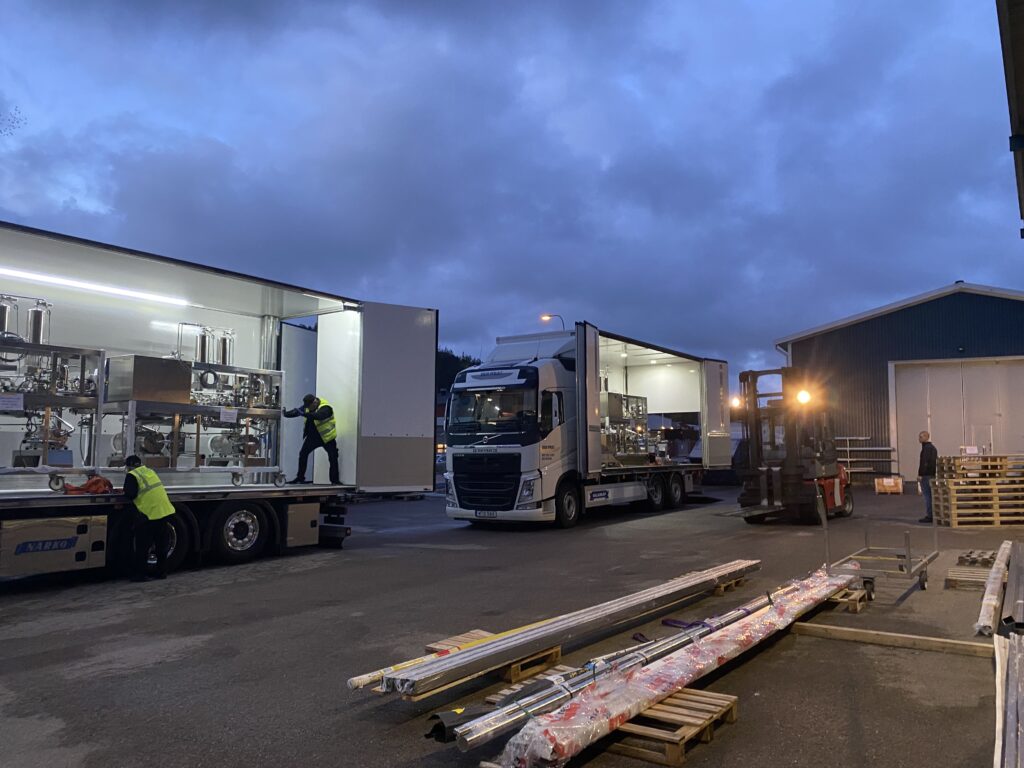 Businnes idea
Nordholms is the supplier of welded parts and complete process modules including electrical and automation, niched against tubes. We deliver to customers in the pharmaceutical-, food- and other industries, where high demands excists on execution as well as documentation. With technical knowledge and flexibility, we develop and manufacture customized solutions according to requirements, where each delivery is a recommendation for future orders.
Our values ​​| the Nordholm thesis
Our values together create the value base ​that is the core of the business, they describe the attitude we employees should have towards each other and to the world around us and form the basis for our corporate culture. The feeling we want to convey internally and externally is (T)Security (E)Commitment / Experience and (S)Pride!
SECURITY in all dimensions - as a customer you should feel confident that your order meets your requirements, as a supplier you should know that you get paid and as an employee you should have a secure job. Security of course also extends to the employee / owner relationship, where the owners must also feel secure in loyal employees as well as quality-assured deliveries.
EXPERIENCE/ECOMMITMENT - Internally, this means that we invest in development and that we make a little extra effort to meet and exceed our customers' expectations, externally that we get involved in the local community by receiving students and by sponsoring sports associations and schools. Of course, our customers should also feel that we really care about our relationship and the goal 

is to 

always meet the customer's needs.
PROUDNESS - our vision, our competence and the quality we deliver gives us reason to feel proud of what we produce, because it is fantastic work we deliver - together! Externally, the goal is for both customers and suppliers that they should feel proud to work together with the Nordholms group so they recomend us to other companies.
Goals and vision
Clarity in roles, goals and responsibilities is important to be able to maintain high quality in what we deliver.
Modern and attractive company
We aim to create a modern and attractive company for both employees and customers. With a clear vision, an elaborate structure and action plans, an easier way is created for everyone to work together to achieve the common goals.
Vision 2030
We lead the customer's development through innovative solutions and is the leading manufacturing company in Sweden, niched towards welded industrial details and complete process modules. We are an attractive workplace where every employee thrives, contributes and makes a difference.
Kaizen - continous changes for the better
To create commitment and participation, we work with Kaizen because problems are solved where they arise and thus give each individual the opportunity to change and improve their own work situation.
Kaizen is a tool for problem solving and handles solutions of everyday problems, which contributes to both efficiency and well-being. Kaizen can also på used to get ahead in the strategic work. As in all change work follw up is A and O to make sure that you have really solved a problem.
The kaizen includes finding and removing muda, gemba kaizen and 5S as tools together with QGA and PDCA.