Welding in stainless steel places high demands on both the individual and the company's system of routines and instructions. With more than 40 years in the welding field, we have built up a large knowledge bank when it comes to execution, standards and 
Our daily welding process is TIG in stainless materials, but also hastalloy and titanium occur, as well as the joining of plastic pipes where our VNF equipment (Vulst Note Free) provides a bead-free weld.
For welding in metals, we work within the following dimensions:
Diameter between 2.5-300mm
Material thickness between 0.5-25mm.
Welding quality
To ensure good welding quality, we work with 3rd party approved WPQR and WPS as well as qualified welders according to current ISO standards and PED. We have good knowledge, in above all, TIG welding with IWS in house. 
All production personnel, who handle welding in any way in their daily work, are trained in visual inspection according to ISO 5817.
We also work with welding consultation, if you need welding advice contact our IWS.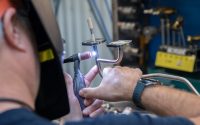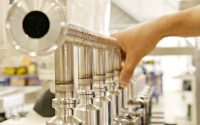 Orbital welding/Mechanized welding
Our main welding method is orbital welding where we have a large number of equipment, many WPSs and skilled operators. As with all joining, joint preparation is A and O and at least as important is the quality of the staple and that protective gas is used, to prevent discolouration and oxides. 
Manual welding
Manual joining is carried out in TIG and is mainly used for stapling pipes and for stand welding. In addition to TIG welding, we have competence in most methods.

Plastic welding
Several methods are available for joining plastic materials, where we have specialized in the VNF method that meets the requirements of ASME-BPE. As this equipment is not applicable for the smaller pipe dimensions (3-16mm) we are in the development phase with a mechanized equipment with welding results in accordance with ASME-BPE.
Orbital TIG welding whith wire feed